Overview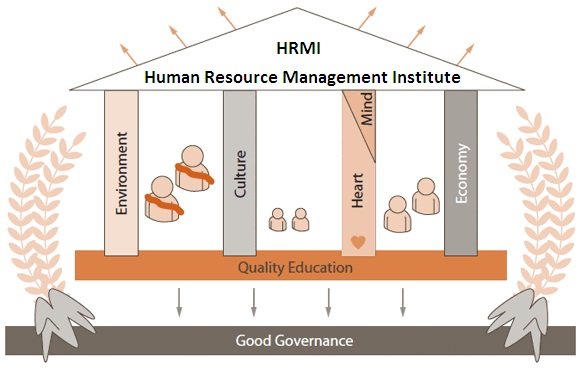 The HRMI, is the world leading professional organization and official certifying body for the human resources management profession.
HRMI® The Human Resource Management Institute is a United States of America 501(c) international nonprofit organization operating globally with registered educational centers worldwide extend seamless access to high quality, affordable and convenient learning opportunities as well as global knowledge transfer network throughout its headquarters. However, the HRMI®is an affiliated to the World Green Economy Council (WGECO®), recognized by European Union (EU) with registration no 106232728140-79 and United Nations Department of Economic & Social Affairs (UN-DESA) and United Nations Global Compact with registration no 112301 .
HRMI® complying with the requirements of ISO 17024 which is a globally accepted accreditation standard for organizations that certify personnel worldwide.
Our Vision:
HRMI will be the Global Centre of Excellence and shaping the future of the HR profession through our members in worldwide

Our Mission:
-To provide research, advocacy, and representation to promote the standing of the HR profession and engender HR Management best practice within workplaces
-To help HR practitioners around the world with the finest opportunities for completing their academic education via distance learning, on-campus or combination of both.
-To advance excellence in HR management worldwide through collaboration with and support of academic institutions and validating of academic programs.
-To enable our members to excel in their profession through the provision of valued benefits and services that contributes to their professional effectiveness and careers.
HRMI Strategic Imperatives:
- Represent and lead the HR management profession to improve standards, practices, and impact
- Be the career development partner for members
- Become the HR Centre of Excellence that organizations use to build their HR capability
- Provide relevant and accessible professional development and networking opportunities
- Provide services, tools and resources that contribute to professional effectiveness
Our Values :
- Lead by example
- Service to our profession
- Teamwork with a collective purpose
Our Commitment to Powering Human Capital
"The HR profession has, indeed, evolved over the years and to bring it to the next level playing field; we must go the way of "Human Competitiveness Management". We should think far, beyond the management of HR functions in corporations and focus on the WHYs, WHATs and HOWs human contributions can be created and sustained to enhance corporate growth and the progress of a society and humankind."
HRMI Members:
Our individual members include HR practitioners with the following titles:
President, CEO, Chairman, Partner, Principal
General Manager
Chief HR Officer
Vice President of HR, Personnel
Assistant/Associate Vice President of HR Industry Consultant
Director of HR, Personnel
Assistant/Associate Director of HR
Manager of HR, Personnel
HR Generalist
Supervisor
Specialist
Administrator
Representative
Legal Counsel
Nearly 40% have titles of director or above. Approximately 50% of members work in organizations with more than 500 employees, and approximately 60% are in manufacturing or service industries.